update ver.1.21b is available (12/May/2019)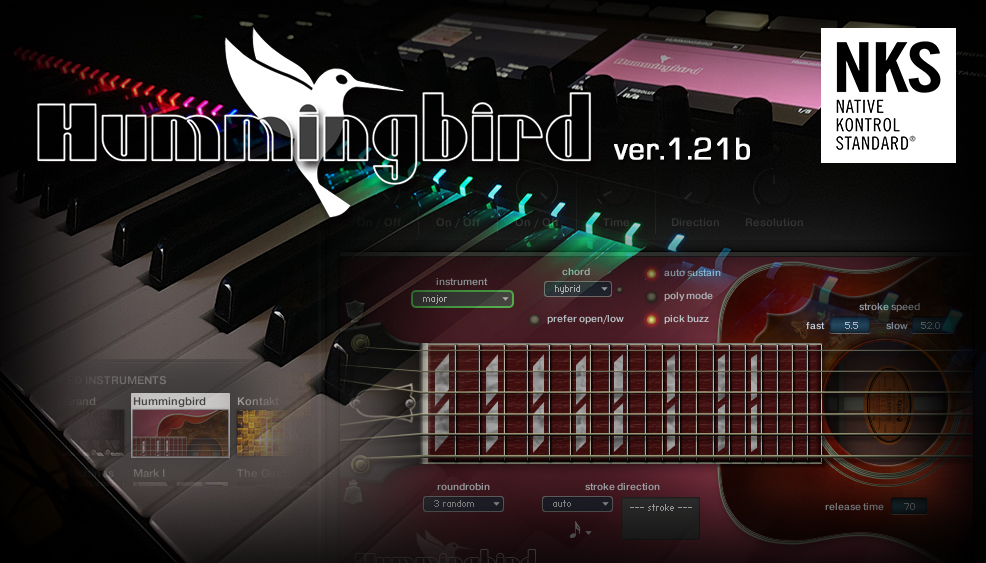 Hummingbird
Ultra Real-sounding Virtual Acoustic Guitar
https://prominy.com/products/hummingbird/
More demos ...
Amazing Grace
Changes
Hummignbirdman
Play all demos
https://www.youtube.com/playlist?list=P ... whY-Dz9nxt
========= Hummingbird =========
Ultra Real-sounding Virtual Acoustic Guitar
- The true sound of Gibson 1963 Hummingbird
includes approx. 80GB*, 89,000 samples
* Hummingbird uses the Lossless Sample Compression format 'NCW' with real-time encoding. The data size after the installation is approx. 40.3 GB that equals 80 GB of .wav files.
Hummingbird enables you to compose and create powerful and natural acoustic
guitar tracks that imitate real acoustic guitar playing!
Main Features:
- Incredible realtime playability - Hummingbird SPI (Super Performance Instrument)
- Fretboard Monitor
- Realtime Legato Slide / Realtime Hammer-on&Pull-off
- Intelligent Instrument Key Switch with chord recognition
- Real sampled chords
- Real emulated chords
- User Chord
- True stereo recording
- Double-tracking
- A large number of guitar percussion samples
- Customizable Strum Key
- Arpeggio Key
- Auto Stroke Detection
- NKS (Native Kontrol Standard) ready
For more information;
https://prominy.com/products/hummingbird/
Last edited: