Combustible, likes pecans
I think this is an appropriate place to put these.

This is intended for those who are trying to understand music theory, but because I already understood it before I made these, they're also for those who like visual aids and generally get excited with theory discussions.
-First, I am a music theory obsessozoid. It takes a hard reset for me to stop once I start talking about it.
-Second, I love finding ways to explain music theory to people and to help make stronger logical connections between musical concepts. Because I am lonely. :r
-Third, I think I might actually be able to help people with these!
The way I would explain scales to [the precious few] people [that I could corner] were to have them make a ring with their finger and thumb, then imagine there were 7 non-bloody notches in that ring.
Not
evenly-spaced notches.
There are 12 possible rings, obviously because there are 12 notes in the chromatic scale.
If you trace any one of the 12 rings around and around, starting and ending on a specific notch, you have the spaces ("intervals") for one of 7 possible scales!
Despite the fact that I now realize this could also have been explained way more intuitively by drawing comparisons to clocks, I therefore made the
THEORY RINGS
.
---------------------------------------------------------------
All of these rings follow standard theories of Western music. They do not cover harmonic minor and its equivalent scales, even though those scales are equally wonderful in their own right. (The Acoustic scale being a guilty pleasure.
)
Because there are 12 notes, and because Western music typically groups 7 notes into a scale, there are 84 (12 ∙ 7) possible scales in all of these rings.
Say you love C Major: why not try F Lydian?
You will be able to find all of the rings on my public Facebook album. (I don't care or mind if you want to friend me, lol)
---------------------------------------------------------------
The system is fairly simple:
Pick a ring.
Start on a notch, then trace.
Whatever is not deeply notched
does not
belong in any of the 7 scales on your ring.
Clockwise ascends (gets higher pitched); anticlockwise descends (gets lower pitched).
---------------------------------------------------------------
All 7 scales and their "brightness" are listed at the bottom right, in color-coded order.
You will notice that these do not appear in the order of the rings' notches. But they DO appear in the order of the
circle of fifths
!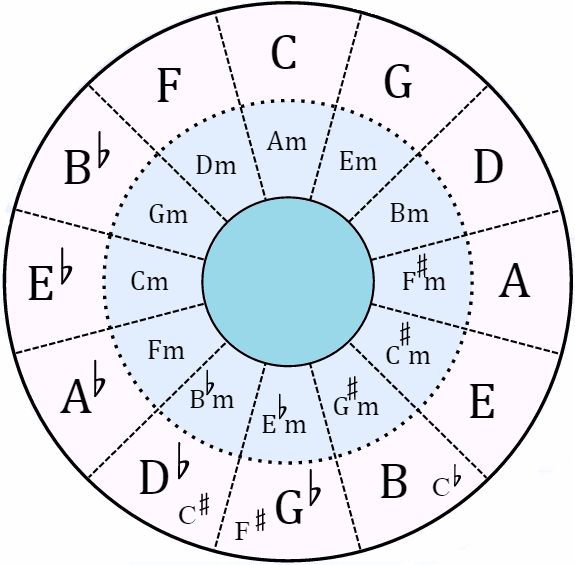 Start with G Lydian: Its major equivalent is JUST clockwise.
A Major's Lydian equivalent is JUST anticlockwise!
This works at ANY note you decide to start on. Pick a note, then a scale, then find the rest with utter ease. But you have to remember the order of the scales.
Below, I explain the order.
There are 3 major scales: Lydian (1), Major / Ionian (2), and Mixolydian (3).
To remember this,
Major / Ionian is sandwiched between the other two major scales.
There are 3 minor scales: Dorian (4), Minor / Aeolian (5), and Phrygian (6).
To remember this,
Minor / Aeolian is sandwiched between the other two minor scales.
There is 1 diminished scale at the bottom. Locrian (7) is the hadeopelagic scale where no man ought venture. Go back to the surface.
All of this has an interesting correlation with finding chords in a scale:
If you want to find the 7 basic chords (with no extra notes) of any scale, look at the notes on the bottom right. 1, 2, and 3 are major chords, 4, 5 and 6 are minor chords, and 7 is the diminished chord in the scale! All of them belong in the same ring, whichever ring you choose.
Pure chords of 4 sharps ring:
A Major - Lydian scale
E Major - Major / Ionian scale
B Major - Mixolydian scale
F# Minor - Dorian scale
C# Minor - Minor / Aeolian scale
G# Minor - Phrygian scale
D# Diminished - Don't scale
---------------------------------------------------------------
I think the bottom left section is pretty self-explanatory.
I hope these amuse you, or at best actually help you with music theory if you didn't already have this knowledge. Either way, I figure I'd share with a community that would get more use out of than most anyone I've ever trapped.
So, next time someone tells you they're writing a song in C Dorian, you can blow their minds with an Eb Lydian harmony.
If you have any questions, feel free to ask!
Cheers,
-Jon
Last edited: