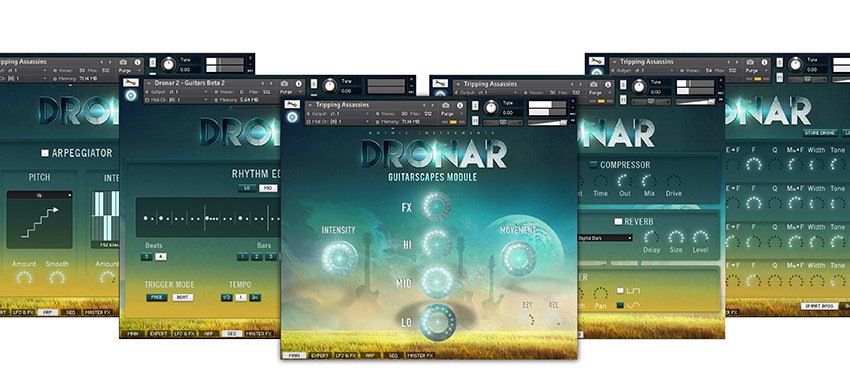 Following on from the huge success of DRONAR: Hybrid Module earlier this year, we are pleased to announce the arrival of the second module - DRONAR: Guitarscapes from Gothic Instruments.
From shimmering ethereal pads to dark and chaotic tension-packed atmospheres, Guitarscapes is perfect for cinematic soundtrack projects, yet its ability to produce natural strumming accompaniments also make it a versatile tool for a variety of genres including Rock, Pop, Indie, Hip Hop and Ambient music.
In true DRONAR style, it takes very little effort to produce these huge complex sounds.
DRONAR automatically spreads out the chord in the mid-range, adds a root bass note, a high note and then adds evolving sound effects. Eight simultaneous different sounds are then animated with LFOs, a rhythm sequencer and arpeggiators to bring them to life.
KEY FEATURES
Sounds derived from recordings of mandolin, electric, acoustic and steel guitars
Create huge shimmery pads, complex atmospheres and otherworldly soundscapes
Simple controls deliver massive control
Great for soundtrack projects as well as Indie, Rock, Pop and Ambient music
Hundreds of inspiring presets
Create your own rhythm patterns in amongst the pad magic with new Rhythm Editor.
Dive deeper with DRONAR´s unique independent arpeggiators
Onboard FX provide further sound design options
There's an introductory 20% off until 20th September and existing DRONAR customers can save another 20% on top of that thanks to the DRONAR loyalty discount! If you own the Hybrid Module and didn't receive the eshot today with your code, please email
[email protected]
(eshot was sent to existing DRONAR customers who are subscribed to our newsletter).
For details visit:
http://www.timespace.com/product/DR...guitar_soundscapes_by_gothic_instruments.html