Introducing our latest product:
TRAILER XPRESSIONS II - THE BOOM EXPERIENCE
Sample Logic is proud to present the follow up to their wildly successful TRAILER XPRESSIONS library with this collection that takes things in a whole new direction.
Sample Logic has teamed up with the world leading SFX designer BOOM Library to fuel TXII. This award-winning sound design development team has created samples for thousands of hard-hitting trailers, bone-crunching blockbusters and scintillating scores over many years and now they are lending their talents and remarkable collection of sounds to the Sample Logic team for an exclusive collaboration
Now available from $149.99 intro price for a limited time only.
More details here:
https://www.samplelogic.com/products/trailer-expressions-2-the-boom-experience/
​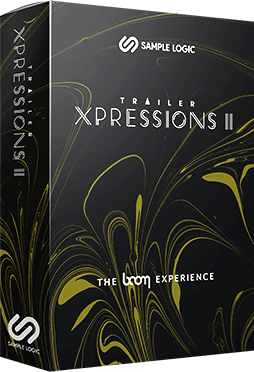 AT A GLANCE
Contains 47 Kontakt cinematic construction kit Instruments
1,775 audio files in .wav format at 96kHz/24 bit
9GB sample library
MIDI controllable user interface to morph, tweak, creat your favorite sounds
Lifetime user license to use the sounds on any production
Global and Independent Modes for user interface parameters
SoundCloud playlist
Youtube playlist
https://www.youtube.com/playlist?list=PL94IWIwRZTdiiClquqlWoPwaytE1ncZaJ