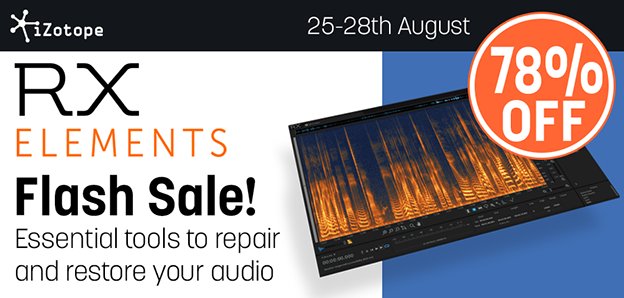 Perfect for home musicians and podcasters on a budget,
RX 6 Elements
delivers essential audio repair at an incredibly affordable price - and even more so this weekend with a huge 78% off the normal price!
RX 6 ELEMENTS KEY FEATURES

RX Audio Editor standalone application
- Visually identify audio problems with the spectrogram view then use familiar image editing tools to fix the issue.
Voice De-noise
- Finely tuned for vocals and dialogue, reduce unwanted steady state or evolving background noise like air conditioning, refrigerator hum, and amp hiss.
De-clip
- Repair digital and analog clipping artifacts to restore distorted audio.
De-click
- Clean up vinyl clicks, mouth noise, and soften up clicky bass guitars with the new low latency De-click algorithm.
De-hum
- Remove ground loop hum and line noise.
Don't miss this chance to buy RX 6 Elements now for just £21.95 / 26.00 Euros!

For full details and to buy visit: http://www.timespace.com/product/RX6E-120/3/10000074/izotope_rx_6_elements_(download).html