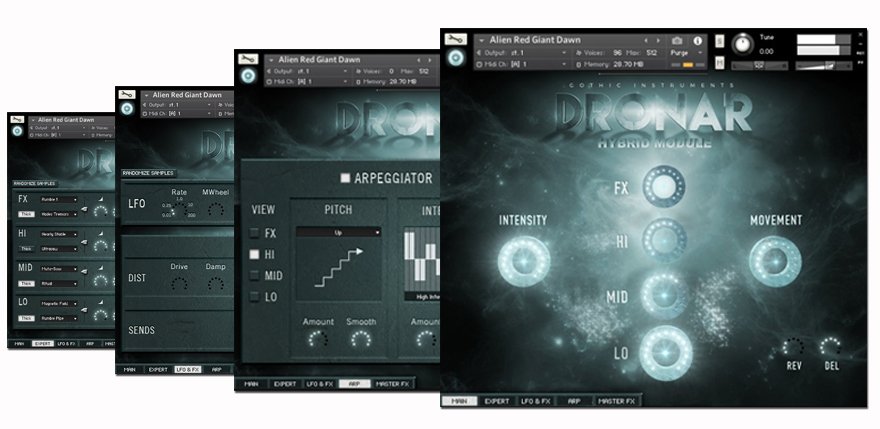 Hi all
We're excited to let you know about DRONAR: Hybrid Module - a revolutionary atmosphere sounds creator for Kontakt created by Gothic Instruments aka Dan Graham who produced Zero-G's Animato, Luminso, Rise Designer and more.
DRONAR: Hybrid Module makes it incredibly easy to create rich, dramatic, complex and evolving atmospheres with a set of controls designed to invite deep exploration, expression and discovery.
Summary
Create a massive universe of sound from a single chord
Rich and dramatic results without the need to add additional instruments
Simple main interface with 6 powerful dials
Dive deeper and explore a vast modular multi-timbral synth/sampler with multiple independent arpeggiators
300 presets
16GB of audio (compressed to 8GB)
Audio by Hollywood trailer sound designer Alessandro Camnasio
Live strings performed by players from the Royal Liverpool Philharmonic Orchestra
Works beautifully with external MIDI controllers
GecoMIDI preset included for use with Leap Motion Controller
Full version of Kontakt 5.5 required
And all for the intro price of £49.95 / 64.95Euro / $74.95 until 22nd February.
This is the first module in the DRONAR series with 300 inspiring presets that focus on deep, grainy cutting-edge, evolving cinematic and sci-fi atmospheres. Future modules will explore different areas of sound and music and existing DRONAR users will be able to purchase these at a special discounted price.
Full details, videos and audio demos at:
bit.ly/1PwkvM4