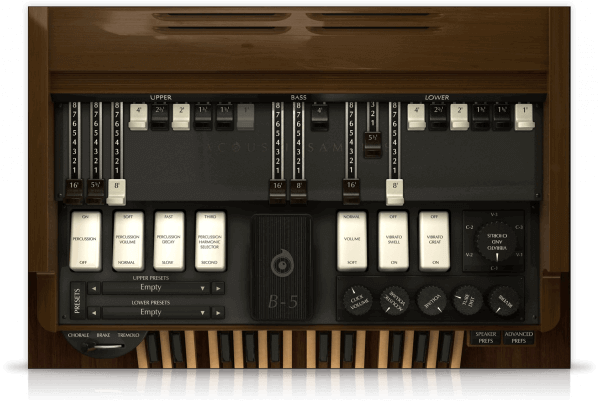 The Hammond organs are very complex beasts, full of wires. Until now, the best renditions were synthesis, mainly because of how the organ works which is a set of 91 frequencies that are connected via contactors under each key and which volume is controlled by the drawbars.
Sample based libraries consist of stacking drawbar samples at the same time which works, but causes big problems.
We have found a way to use the 91 frequencies synthesis approach, but using real samples, so you get the best of both worlds, the real recorded organ tone plus the real behavior and we keep access to the versatility of the drawbar controls and the tweakability of synthesis.
Here are the main features of the B-5 Organ.
Sample based synthesis: each of the 91 tones have been sampled, measured and meticulously reproduced, the key contacts, the resistance wires, the foldback, the drawbars, the swell pedal, the percussion, and every button available on the original machine.
Rotary Speaker Simulation
: An organ without its rotary speaker isn't an organ. Acousticsamples provided UVI with very detailed measurements and they created an incredible physical model.
Advanced percussion system
: the whole percussion system has been recreated and you can customize every aspect of it.
Real key contact modeling
: 9 contacts are made one after another under each key and each of them produces a small click, making this the only influence of the velocity and resulting in a different click sound each time you press a key.
All three keyboards
: On a real organ, there are 3 keyboards, two of which are almost identical except for the percussion system, and the bass pedals. You can choose to use 3 different MIDI channels, one for each keyboard or you can use the split to have all three on one keyboard.
Presets
: There are around 200 drawbar presets that you can load, save, delete or assign to the preset keys (upper and lower), and these include the most used Jazz, Gospel and classical presets.
Organ modifications
: Every organ player likes to tweak his instrument, so every modification that organists can do is available here.
Here are the audio demos for the B-5 Organ:
https://SoundCloud.com/acousticsamples/sets/b5-organ
As well as the presentation video:
https://www.YouTube.com/watch?v=DieOAxHSmsw
You can get the B-5 Organ for 99€ / 109$ from the
Acousticsamples website
.